Russell Products Divisions:
Russell Forge
High Volume Shop
High volume processes achieving high levels of output through a combination of machines automating certain tasks, and assembly lines to complete larger quantity orders.
---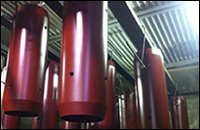 Akron Anodizing
Anodizing & Conversion Coatings
Specializing in Anodic and Conversion coatings. Capable of running 13' extrusions or small machined parts.
---
Falholt
Custom Shop
Specializing in customized coating of large molds/parts up to 12'x6' to small quantity jobs in a coating designed for your desired surface outcome.
Solutions We Offer
Surface characteristics of a part often dictate whether it will succeed in a given application. These characteristics are generally described by certain desired surface properties, such as:
Scratch Resistance
Friction Reduction
Non-Stick (release)
Thermal Stability
Hardness
Humidity Resistance
Food Grade Contact
Load Bearing
Decorative
Weather Resistance
Corrosion Resistance
Energy Absorption
Abrasion Resistance
Impact Strength
Electrical Resistance
Nonwetting
Flame Resistance
Creep Resistance
Reflectivity
Color
Protective/Resitant Coatings
Halar®, Epoxy, Paint, PFA, Vinyl, Primer, Urethane, Polyurethane
Aluminum Anodizing
Hard Coat Anodize, Sulfuric Anodize, Decorative Anodize, PTFE Infused Anodize
Release/Non-Stick Coatings
Durillium, Excalibur®, Everlube, Permalon, WS2, PTFE, FEP, PFA, Xylan®, Xylar®