Halar® ECTFE Coating
This coating is a strong, highly impact-resistant, melt-processible copolymer that retains its useful properties over a broad range of temperatures (cryogenic up to 149°C (300°F)). ECTFE (Ethylene-ChloroTriFluoroEthylene) exhibits excellent electrical properties, low moisture absorption, and temperature insensitivity, making it a material of choice for plenum-rated wire and cable jacketing.
Very good chemical and thermal resistance
Excellent electrical properties
Low moisture absorption
Outstanding flame resistance
Strong adhesion to material
Very good surface characteristics
ECTFE is distinguished from other fluoropolymers by its exceptional surface smoothness. In addition to electrical components, ECTFE works well for high-purity processing components for the chemical and semiconductor industries.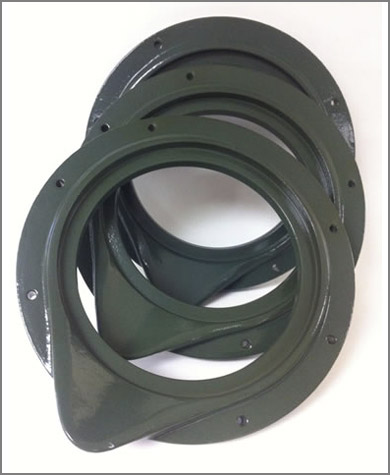 Properties
Tensile Strength (ASTM D1708): 6600 psi
Elongation (ASTM D256): 325%
Impact Strength (ASTM D256): no break
Dielectric Strength (ASTM D149): 2000 volts per mil
Use Temperature: 310°F max
Melting Point: 428°F
Chemical Resistance (ASTM D543): Excellent
Water Absorption (ASTM D570): <.1%
Thickness: .020" - .040"
Specific Gravity: 1.68± .05
Applications
Typical applications served by Halar® ECTFE include those in contact with highly corrosive or chemicals such as strong inorganic bases and strong mineral and oxidizing acids including:
Vessels Reactors
Chemical tanks
Ductwork
Filters
Piping systems
Centrifuges
Agitators
Exhaust hoods
Electroplating equipment